Cards for the Occasion
Posted: July 11th, 2014 - 8:12:17 PM
Views: 5,283
I'm a person who likes a good story. I think when I get old, when my bowels don't agree with me and I won't be able to limbo, the things I will enjoy in life will be the interesting stories I'm telling or being told. With that in mind I try to remain memorable. Life is full of little expectancies. When a person has a birthday, that person is expecting a few "happy birthday" wishes, when someone trips in front of a pretty girl they are expecting the warm embrace of embarrassment shortly after. The way to stay memorable is to clash with someones expectations but in a good way.
I have a friend who is going to be moving from one job to another. I told her I'd show up for her last day at her job and I planned to bring a card. So I walked into a Hallmark Cards store today and the person behind the counter started a conversation that went a little like this:
"Can I help you with anything?"
"Yes, I have a friend that will be changing jobs soon so I'd like to get her a card that has absolutely nothing to do with changing jobs."
"Excuse me?"
"What's the most absurd cards you have to offer?"
She took me to a little card section that had about 9 different cards in it. These cards were essentially the Hallmark's version of misfit toys. A few caught my eye but didn't really hit the spot. Then... Bingo. I found the card that I was looking for on this on this so very special of occasions.
Tomorrow night when I give my friend her card she will be greeted with a very warm welcome of congratulations on her joyous and successful attempt at using the potty. Chances are, she'll remember this for a very long time and that's better than most people get.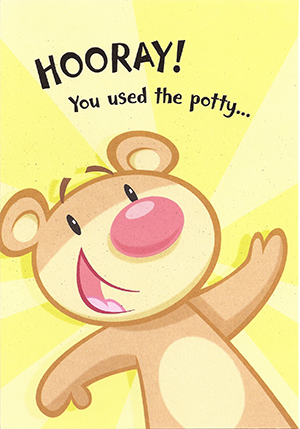 This is what I wrote on the inside of the card:
If ever you have a bad day at work,
Remember there's not one but two dorks,
Who were always warmed by your smile,
And hopefully that memory can last for a while.
Here's More Absurdities
More Stuff